GROUP LICENCES FOR ONLINE PRE-RECORDED FILMED VERSIONS OF THE SESSIONS / EVENINGS (4 weeks' access)
SCHOOLS / TEACHERS: You may have tried to book a session or evening with Dr Prue Salter in Sydney only to discover that she is pretty much fully booked all of the time. Or maybe you are from a school in another state or country and could not find a time when Dr Salter could travel to you. These online pre-recorded filmed versions mean that your school does not have to miss out.
This group licence is applicable if you wish to show the online pre-recorded filmed videos of Dr Prue Salter's sessions to a Year Group of students or email the link to the parents or students of a Year Group at your school so they can watch them at home. In most of the video series the group licence gives access for one Year Group for four weeks (except Year 12 where they have access for most of the year) and includes links to download the handouts and the slides.
Online study skills seminars:
Choose from below to see the options for your choice of seminar.
You may also want to download or print these documents:
OVERVIEW ONLINE SESSIONS       DETAILS ONLINE SESSIONS       PRICING OPTIONS
The style of each online session varies but may be a mix of Dr Salter speaking, videos of slides with voice-overs or slideshares so attendees can control the time they spend on that section. There are also handouts, links and reference materials included.
WOULD YOU LIKE TO PURCHASE ONLINE SESSION ACCESS FOR A YEAR GROUP?
WOULD YOU LIKE TO REQUEST TEMPORARY 24 HR ACCESS FOR ASSESSMENT?
Just let us know which session you are interested in, which year level you would like to have access, and your start date for access. Pricing is listed below in each section and we also have pricing for multiple year groups to access the videos as the numbers of potential users affect the streaming costs.
Temporary access is available for teachers only to see if they want to purchase access for their school.
Why not a live webinar so participants can ask questions? Webinar research shows only around 10-30% of people who sign up for a webinar actually attend it live. By giving schools access for a month, parents and students can watch the videos at a time that suits them. It is also very difficult to absorb all of the information from a webinar in one go. The videos from Dr Salter's sessions are broken up into bite sized chunks so they do not need to be viewed all in one go plus it is easy to go back and re-watch a particular section.
As to questions, Dr Salter has been running these seminars for a long time and her presentations are very comprehensive and address all the issues that have been raised with her over the years. Even in a live seminar she rarely gets questions these days. However those viewing the videos are urged to email Dr Salter directly if they do have any questions they feel have not been answered in the video series. In a live webinar the numbers just keep dropping off at the end as everyone has to listen to questions they are not interested in! Having experimented with webinars a number of years ago, Dr Salter has found for the information she covers, bite sized video chunks with access for a month works best.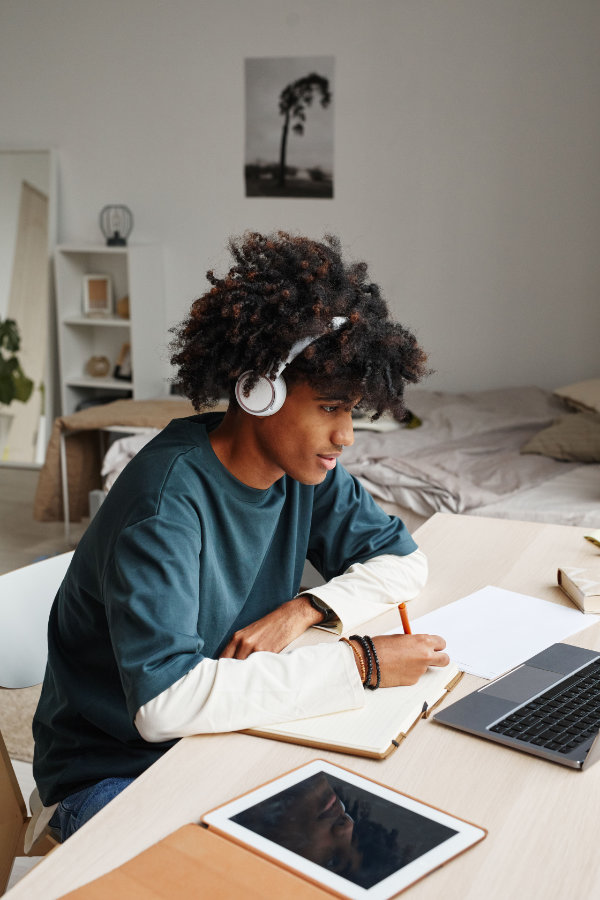 Why offer an online pre-recorded filmed session to your school community?
FLEXIBLE:

Unlike a webinar, families don't have to be available for a fixed time slot. Families have a month to access the video series at a time that suits them.

EFFECTIVE:

Unlike a live seminar, students and parents do not have to try and absorb everything in one go, videos are in bite sized chunks and they can review as often as they like during the access period.

EASY:

All teachers have to do is nominate a start date and forward the email provided to parents, nothing more to do! Families download the handouts and follow up materials and resources directly from the online video page and can email their questions directly to Dr Salter (which also reduces the load on teachers).

ACCESSIBLE:

Prior to this Dr Salter has had a long wait list of schools wanting to run sessions. This allows all schools to support families and students to improve the way they study and learn at home at any time that suits them regardless of where the school is located. No need to worry about travel costs or to have to wait until a date may become available, schools can access expert advice from Dr Salter now at any time.

POSITIVE FEEDBACK:

Parents and students have indicated that they find this a very convenient and powerful way to improve their study skills!